Awards
The Don Kunitz Award for Excellence in Jewish Studies
The Kunitz Award honors the best undergraduate work each year for categories such as short essays, research papers, creative projects and senior theses. The monetary prize for the award varies from $200 to $300 depending on the category. This award was made possible by donations from the family, friends and community of Don Kunitz, a librarian at UC Davis. He continued his varied intellectual interests even after he retired, attending many lectures and colloquia on campus. Don was a warm person with a wonderful sense of humor. He was very much a cultural and secular Jew. This award keeps his memory alive for those of us who knew him and, at the same time, perpetuates his spirit in a manner he would find extremely worthwhile.
HOW TO SUBMIT A PAPER OR CREATIVE PROJECT
If you took an undergraduate Jewish Studies course in Spring 2021, Fall 2021, or Winter 2022l, please consider submitting your work here! We consider papers, senior theses, and creative projects. 
We will accept submissions on an ongoing basis until Monday, April 4, 2022. Winning submissions will be selected by a committee of Jewish Studies faculty and advanced graduate students. 
2021 WINNERS
Research Paper: Julissa Ramirez
Senior Thesis: Jennifer Alpers
2018 WINNERS
Research Paper: Josie Kamida, Ethan Kogon-Schneider, and Oswaldo Vargas
Short Paper: Noah Scheindlin and Maddie Thomas
Honorable Mentions: Bardia Eshghi and Danielle Schwartz
2016 WINNERS
Short Essay Winner: Megan Cliff
First Prize Research Paper: Marie Yelavich
Second Prize Research Paper: Peter Mills
Jewish Studies Scholarship: Zoe Robinow
2015 WINNERS
Lara France (First Prize- Research Paper)
Jack Mizes (Second Prize- Research Paper)
Natascha Starr (First Prize- Short Essay)
2014 WINNERS
Josh Rushakoff (First Prize- Research Paper)
Eric Cavalli (First Prize- Short Essay)
Natalia Hess (First Prize- Long Essay)
2013 WINNERS
Rachel Pevsner (First Prize- Short Essay)
Brittany Gatchell (2nd Prize- Short Essay)
Hannah Goldner (First Prize- Creative Project)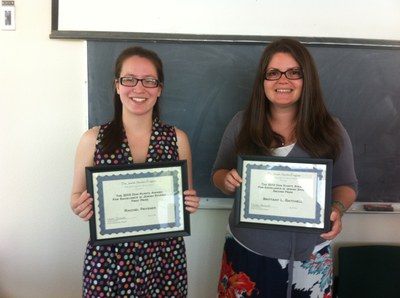 Pictured: Rachel Pevsner, Brittany L. Gatchell
2012 WINNERS
Jared Law (First Prize- Research Paper)
Emily Fox (First Prize- Short Essay)
Jonathan White (First Prize- Mid-length Paper)
Jonathan Dyer (Honorable Mention)
2011 WINNERS
Tina Mirzazadeh (First Prize)
Maya Makker (Second Prize)
2010 WINNERS
Emma Goldin (First Prize- Senior Thesis)
Lauren Crosby (First Prize- Research Paper)
Stacey Kaplan (Co-Winner First Prize- Short Essay)
Jamie Forrest (Co-Winner First Prize- Short Essay)
2009 WINNERS
Kimmi Bell (First Prize)
Alena Egense (Second Prize)
Laura Weissberger (Second Prize)
2008 WINNERS
Rachel Gordon (First Prize)
Sarah Faye (Second Prize)
Emma Goldin (Second Prize)