April 27, 3:10 PM: Itay Eisinger, "Fighting to Fight: Israeli Women Combatants in Myth, Reality, and Representation"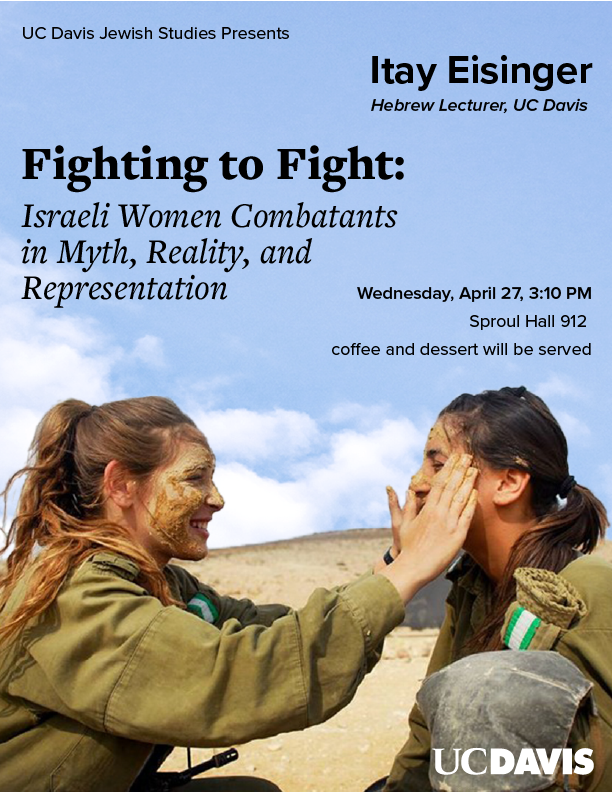 Abstract: Since the 1990s, the Israeli Army has gradually opened combat positions for women. Previously, women's lives were militarized as mothers, spouses, or victims of war—now they can also volunteer to fight. My lecture presents a critical and historicized analysis of this development and of its representation in media, literature, film and social media. Ultimately, I argue that focusing on women combatants allows the army to conceal the reality of most women serving in it, and to camouflage the external and internal violence it inflicts. Hence, I contend that feminist militarism reproduces and reinforces both traditional gendered hierarchies, and militarism as a state ideology.
I will discuss how conceptualization of Jewish masculinity, heroism, and modesty shaped the new gender regime and the public debate surrounding it; how Western armies use women in combat to appear modern and liberal, especially when contrasted with the perceived sexual repression of Muslim women; how the erotization of the Israeli woman-soldier was globalized; how the intersection of class, ethnicity, and religiosity affect women's service; and how recent novels, films, and photographs represent these few Israeli women who fight to fight.
Itay Eisinger earned a PhD in intellectual History from the University of Texas at Austin. Born and raised in northern Israel, he received a dual BA in Philosophy and Literature from Tel Aviv University (both magna cum laude). He worked as a Reader for a major publishing house in Israel and taught conflict resolution at Givat Haviva - The Center for a Shared Society. He also holds an MA in Middle Eastern Studies from the Graduate Center of CUNY, the City University of New York. His PhD dissertation - "The Dystopian Turn in Hebrew Literature" - focuses on modern Israel's intellectual history and on the genealogy of dystopian thought in both Zionist discourse and in Hebrew literature. His article -"War of the Sexes" - which deals with "Israeli feminist militarism" is currently under review. His next project focuses on the late political thought of Noam Chomksy, Theodor Adorno and Herbert Marcuse. He is a recipient of the Churchill Fellowship (British Studies, UT). Itay has published poems in Haaretz, Yediot Ahronot and other Hebrew and English magazines; his first poetry book ("Isaiah, Berlin") will be published in Hebrew in 2021.