April 6, 12 PM: Adam Siegel, "Healing Plant Knowledge in Ma'aseh Tuviyah: Ha-Kohen and Early Modern Jewish Folk Medicine"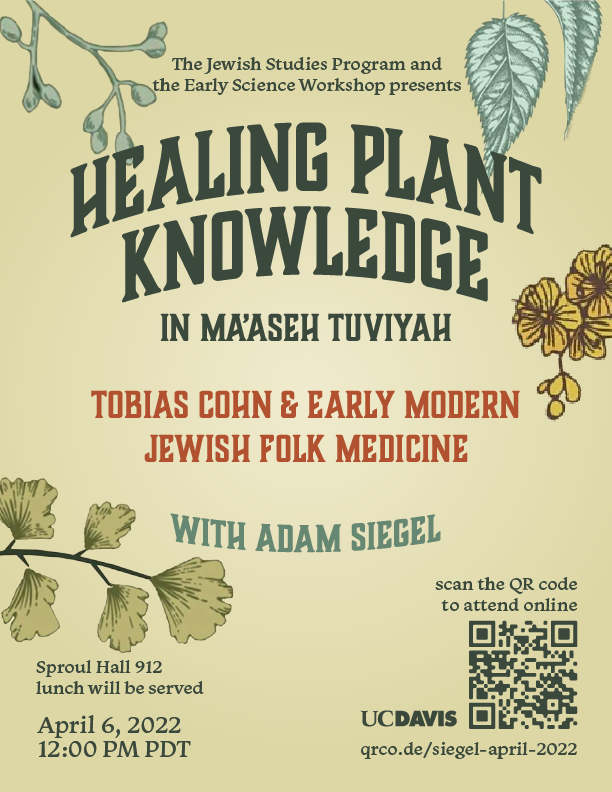 Abstract: In our recently published Ashkenazi Herbalism(North Atlantic, 2021), Deatra Cohen and I uncovered the obscured tradition of plant medicinal healing and healers among Ashkenazi Jewry in the Pale of Settlement before the Second World War. In this talk, I will outline some of the current research paths we are pursuing, among the documenting the transmission of medicinal plant knowledge within and via networks of Jewish knowledge dissemination from East to West. Drawing primarily on the work of Tuviyah ha-Kohen (aka Tobias Cohn, Tuviyah Kats, etc.) and his _Ma'aseh Tuviyah_ (Venice, 1707), I will focus on ha-Kohen's plant medicinal knowledge, and his role in the introduction of Asian (South, Central, and Eastern) plants and plant remedies to Jewish diasporic (particularly Eastern European) healers over the course of three centuries.
Adam Siegel is agricultural and resource economics librarian and languages/literatures bibliographer at the UC Davis Library.
Register here.