Congratulations to the 2022 "New Directions in Jewish Studies" Lecturers!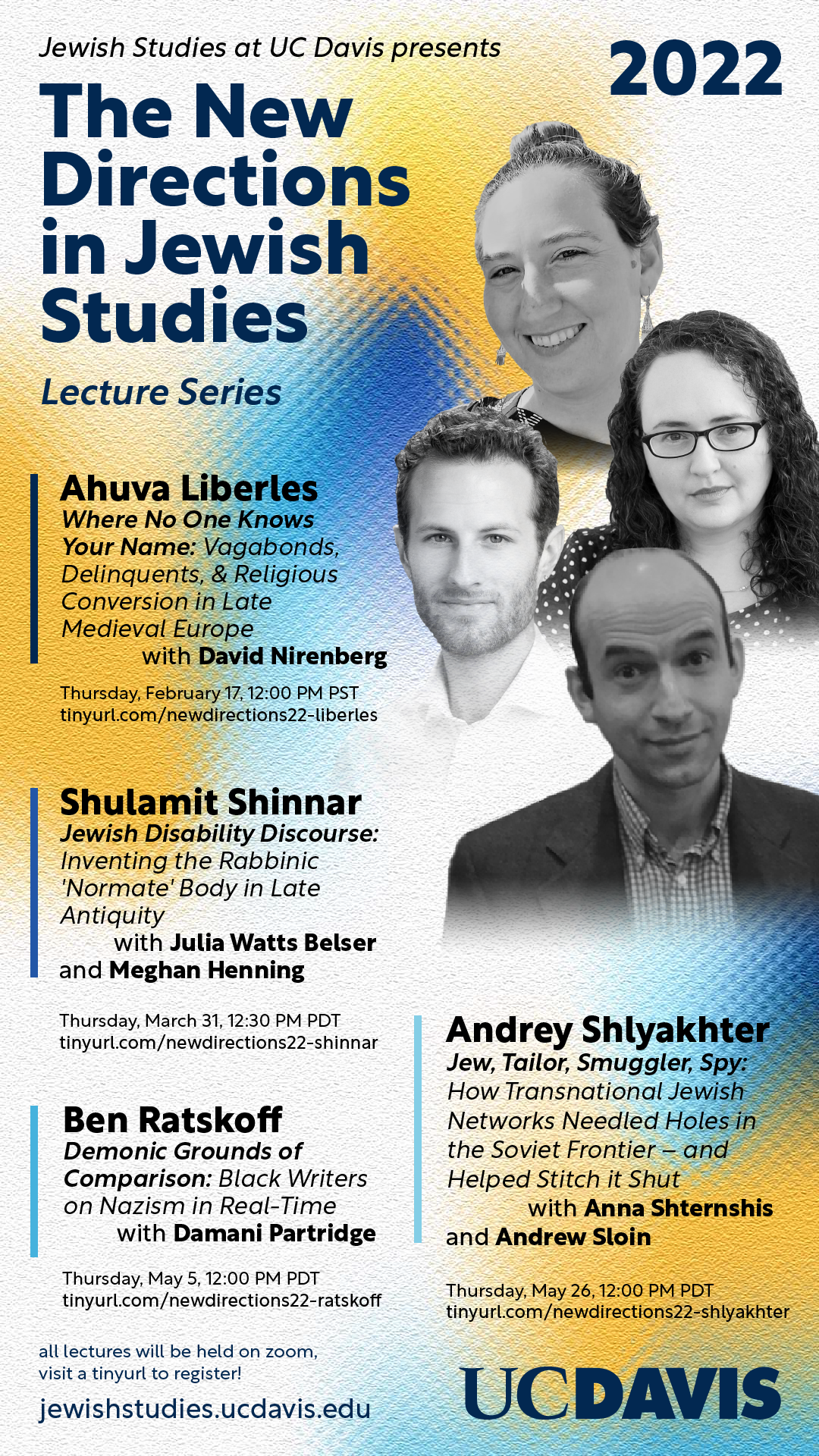 Launched in 2020, the "New Directions in Jewish Studies" Lecture Series at UC Davis is a one-of-a-kind program that aims to promote the work of scholars doing cutting edge research in Jewish Studies outside the tenure track. This year's four lecturers were selected from a large pool of applicants of extraordinary range and quality, and each will present their research in a virtual talk in 2022. Congratulations to Dr. Ahuva Liberles, Dr. Ben Ratskoff, Dr. Shulamit Shinnar, and Dr. Andrey Shlyakhter!
February 17, 2022, 12 noon PST
Ahuva Liberles
Where No One Knows Your Name: Vagabonds, Delinquents, and Religious Conversion in Late Medieval Europe
Responding: David Nirenberg
This lecture will examine life stories of individuals who lived on the margins of late medieval German-Jewish societies to re-examine the definition of "belonging" to the Jewish community through its boundaries. After the persecution that followed the Black Death (1348-1351), the legal status of Jews in the German lands had weakened. Many cities chose to expel the Jews, others recanted the privileges granted in earlier centuries. What roles did the fifteenth-century Jewish community play in legal procedures regarding Jewish criminals and transgressors? Was communal Jewish solidarity exhibited also towards Jews living on its moral and religious margins, and what were its limits during this unstable era, when many Jewish communities were expelled time and again? This research is based on numerous court records which lay in the archival troves of Southern Germany, Austria, and northern Italy, juxtaposed with exciting contemporary Hebrew documents. The various genres and sources of different origins will paint a rich and diverse picture of the past and reveal multiple narratives of entangled pre-modern life.
Ahuva Liberles received her PhD from the Hebrew University of Jerusalem in 2020 and is Blaustein Postdoctoral Associate of Medieval History in the Judaic Studies Program at Yale University. Her main areas of research interest are pre-modern Jewish history (1100-1500), social and intellectual history, the study of conversion, family life, marginality, and inter-religious relationships between Christians and Jews.
March 31, 2022, 12:30 pm PDT
Shulamit Shinnar
Jewish Disability Discourse: Inventing the Rabbinic 'Normate' Body in Late Antiquity
Responding: Julia Watts Belser and Meghan Henning
As scholars from the field of disability studies have argued, the category of "disability," like gender, presents a fundamental category of analysis for historians to examine power relations and identity formation. Drawing on theoretical framework from disabilities studies and the sociology of stigma, this paper examines the negative representations of chronically ill bodies in late antique Palestinian rabbinic literature. Focusing on the representations of disabling skin conditions, it argues that these representations construct a portrait of what disability theorists refer to as the "normate" body, the social figure which allows people to represent themselves as "definitive human beings." Through my analysis, I will show how for the rabbis, the disabled body, or the "deviant other" body, functioned as a marker for the boundaries of humanness, inventing difference and drawing rabbinic communal boundaries around conceptions of ideal and transgressive bodies. Indeed, building on biblical traditions relating to the skin affliction of tsara'at and Greco-Roman medical theories, the rabbinic texts detail a physiological theory where transgressive behavior effects the internal balance of the body cause these illnesses. However, these texts go beyond a classic association between sin and illness. The texts suggest that these illnesses are caused by deviant sexual behavior, especially transgressive sexual behavior of women. Additionally, there are some sources that even question whether these illnesses are only endemic to non-Jewish communities. These texts suggest a contrast between the idealized rabbinic body which imagined as righteous, male, and Jewish and the disabled body which is imagined as sinful, female, and non-Jewish. Through my examination of disability discourse in rabbinic literature, this paper argues for the importance of recognizing how crucial disability was as a category of identity formation within Jewish communities in late antiquity. Furthermore, by looking at some of the reception of these texts, it will show the long afterlife that this discourse had in later Jewish communities, profoundly shaping the lived experiences of Jewish persons living with disabilities for centuries.
Shulamit Shinnar holds a postdoctoral faculty appointment as a Core Lecturer in Literature Humanities in the Department of History and the Center for the Core Curriculum at Columbia University. As a cultural historian of ancient Judaism, her research focuses on how rabbinic conceptions of the body, health, and illness shaped how the ancient rabbis envisioned religious community and constructed communal identity. 
May 5, 2022, 12 noon PDT
Ben Ratskoff
Demonic Grounds of Comparison: Black Writers on Nazism in Real-Time
Responding: Damani Partridge
Questions of comparison in Jewish Studies often rely on forms of analogy that pair "antisemitism" with other "racisms," or Jews with Blacks as discrete, transhistorical identities or cultures. Nowhere have such comparisons been as hotly contested as in thedebates over the Holocaust's relationship to colonial forms of violence and governance. However, interrogating the works of Black writers who represented the rise of Nazism in real-time shifts the ground of comparison in two crucial directions: before theHolocaust would emerge as a discrete historical event and before "antisemitism" and "racism" would be conceptually consolidated as pathological forms of individual prejudice. If the conventional ground of comparison classifies and organizes white supremacy and Nazism, Blacks and Jews, into neat comparative taxonomies of measure and equivalence, these writers—including W.E.B. Du Bois, Léon-Gontran Damas, and Richard Wright—drew idiosyncratic and non-teleological lines of connection that transgressed the neat alignment of "victims" (Blacks and Jews), "perpetrators" (whites and Aryans), and their attendant "racisms" (white supremacy and Nazism). In doing so, they integrated, sometimes ambivalently, fascism, Nazism, and antisemitism into their international conceptions of capitalist and colonial politics without presupposing the commensurability of Blacks and Jews at large, or of anti-Blackness and antisemitism in the abstract.
Ben Ratskoff is currently a Visiting Assistant Professor in the Louchheim School of Judaic Studies at Hebrew Union College and the University of Southern California, after having completed his dissertation in June 2021 at UCLA's Comparative Literature department. His writing has appeared in Jewish Studies Quarterly and Studies in American Jewish Literature as well as the Los Angeles Review of Books, Truthout, and Jewish Currents.
May 26, 2022, 12 noon PDT
Andrey Shlyakhter
Jew, Tailor, Smuggler, Spy: How Transnational Jewish Networks Needled Holes in the Soviet Frontier - and Helped Stitch it Shut
Responding: Anna Shternshis and Andrew Sloin
Whether condemned or celebrated, the relationship between Jews, capital, and borders has often been framed as follows: the first help the second erode the third. However, my research on contraband trade across the Soviet frontier in the 1920s uncovers a more complex dialectic. Jews benefited from an imperfectly functional border: porous, but present. In turn, their ability to leverage the border catalyzed its reinforcement rather than its erosion. On the one hand, Jews on both sides of the new border rendered its restrictions into a resource: contraband trade (primarily in sartorial items) turned local peddlers and draymen into international merchants, and backwater shtetls into bustling entrepôts. My research reveals how prewar Jewish relationships facilitated extraordinarily elaborate, trust-based transactions. Moreover, it uncovers the transatlantic Jewish networks that nurtured this traffic through the millions of US dollars sent to the former Pale by relatives and friends in the New World (especially New York needleworkers). At the same time, my findings show how contraband trade prompted Soviet authorities –including political police officials who hailed from the same shtetls –to securitize the frontier. Meanwhile, the centrality of Jews to contraband trade exposed Jewson both sides of the border to charges of corruption, disloyalty, and even espionage, fueling the fires of future persecutions.
Andrey Shlyakhter received his PhD in History from the University of Chicago in 2020 with the dissertation "Smuggler States: Poland, Latvia, Estonia, and Contraband Trade Across the Soviet Frontier, 1919-1924." He is currently the Dina Abramowicz Emerging Scholar Fellow in Eastern European Jewish Studies at the YIVO Institute for Jewish Research, where he is working on his first book, Smuggling Across the Soviet Borders: Contraband Trades, Soviet Solutions, and the Shadow Economic Origins of the Iron Curtain, 1917-1932.