May 26, 12 PM: Andrey Shlyakhter, "Jew, Tailor, Smuggler, Spy: How Transnational Jewish Networks Needled Holes in the Soviet Frontier—and Helped Stitch it Shut"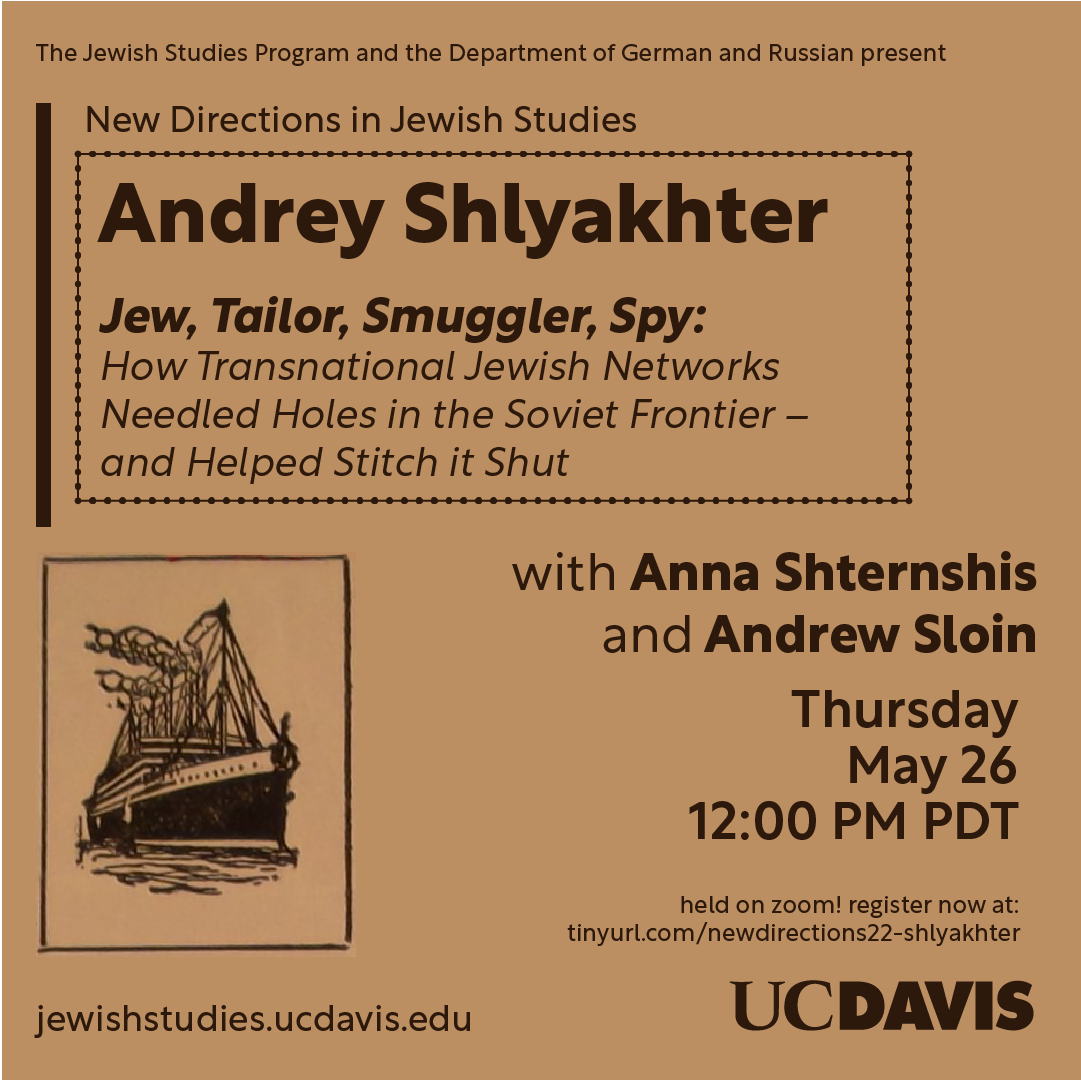 Abstract: Whether condemned or celebrated, the relationship between Jews, capital, and borders has often been framed as follows: the first help the second undo the third. However, my research on contraband trade across the Soviet frontier in the 1920s uncovers a more complex dialectic. Many Jews benefited from an imperfectly functional border: porous, but present. In turn, their ability to leverage the border catalyzed its reinforcement rather than its erosion. On the one hand, Jews on both sides of the new border rendered its restrictions into a resource: contraband trade (primarily in sartorial items) turned local peddlers and draymen into international merchants, and backwater shtetls into bustling entrepôts. My research reveals how prewar relationships facilitated extraordinarily elaborate, trust-based transactions. Moreover, it uncovers the transatlantic Jewish networks that nurtured this traffic through the millions of US dollars sent to the former Pale by relatives and friends in the New World (especially New York needleworkers). On the other hand, my findings show how contraband trade prompted Soviet authorities – including political police officials who hailed from the same shtetls – to securitize the frontier. Meanwhile, the centrality of Jews to contraband trade exposed Jews on both sides of the border to charges of corruption, disloyalty, and even espionage, fueling the fires of future persecutions.

Andrey Shlyakhter received his PhD in History from the University of Chicago in 2020 with the dissertation "Smuggler States: Poland, Latvia, Estonia, and Contraband Trade Across the Soviet Frontier, 1919-1924," which was honored with a 2021 Ab Imperio Annual Award and was a finalist for the 2022 Herman E. Krooss Prize for Best Dissertation in Business History. He is the 2021-22 Dina Abramowicz Emerging Scholar Fellow at the YIVO Institute for Jewish Research, and a Remote Fellow with the Academic Fellowship in Russia program from American Councils for International Education-Carnegie Corporation of New York. In fall 2022, Dr. Shlyakhter will join the Zvi Yavetz School of Historical Studies at Tel Aviv University as a Zvi Yavetz Postdoctoral Fellow.
Register here.