May 5, 12 PM: Ben Ratskoff, "Demonic Grounds of Comparison: Black Writers on Nazism in Real-Time"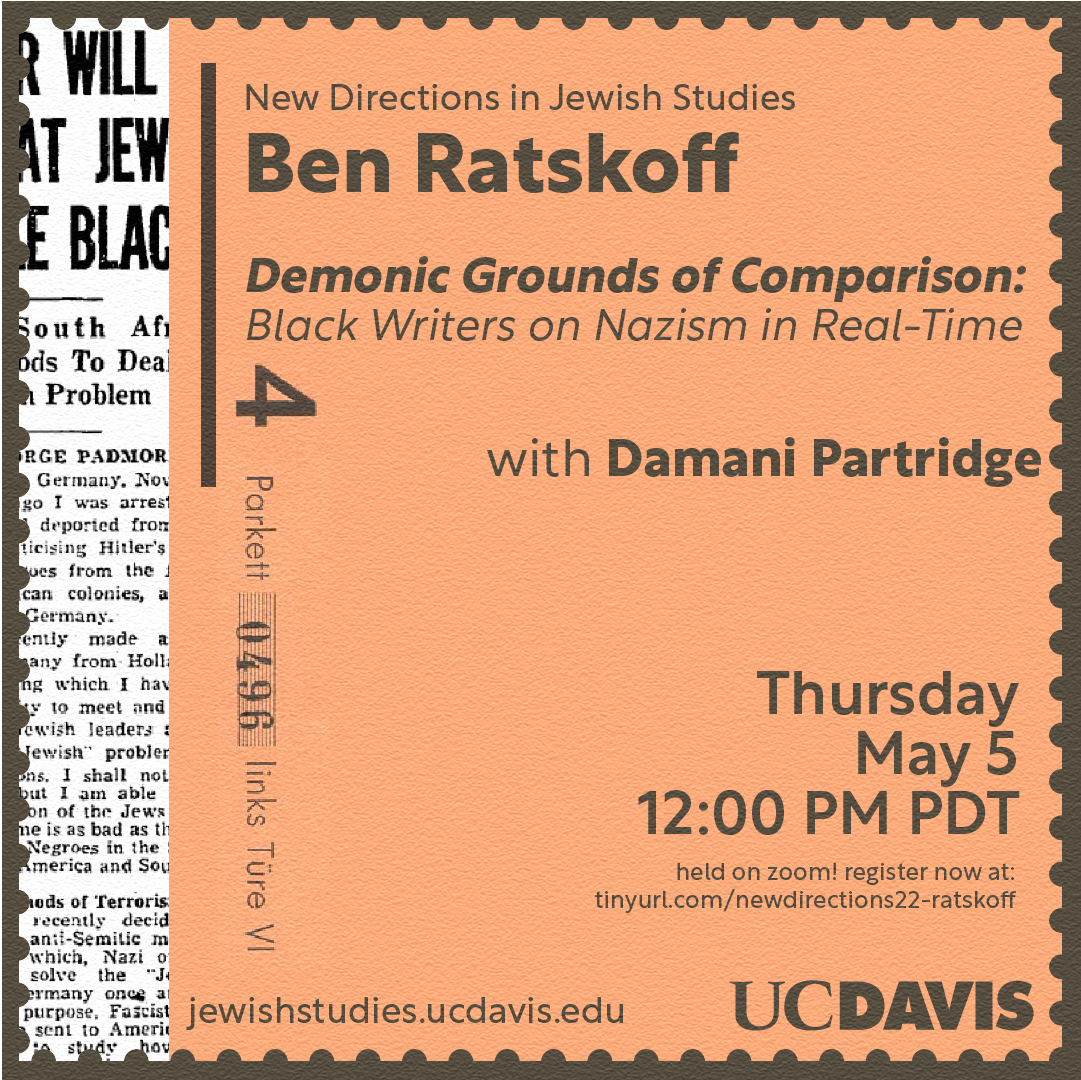 Abstract: Questions of comparison in Jewish Studies often rely on forms of analogy that pair "antisemitism" with other "racisms," or Jews with Blacks as discrete, transhistorical identities or cultures. Nowhere have such comparisons been as hotly contested as in thedebates over the Holocaust's relationship to colonial forms of violence and governance. However, interrogating the works of Black writers who represented the rise of Nazism in real-time shifts the ground of comparison in two crucial directions: before theHolocaust would emerge as a discrete historical event and before "antisemitism" and "racism" would be conceptually consolidated as pathological forms of individual prejudice. If the conventional ground of comparison classifies and organizes white supremacy and Nazism, Blacks and Jews, into neat comparative taxonomies of measure and equivalence, these writers—including W.E.B. Du Bois, Léon-Gontran Damas, and Richard Wright—drew idiosyncratic and non-teleological lines of connection that transgressed the neat alignment of "victims" (Blacks and Jews), "perpetrators" (whites and Aryans), and their attendant "racisms" (white supremacy and Nazism). In doing so, they integrated, sometimes ambivalently, fascism, Nazism, and antisemitism into their international conceptions of capitalist and colonial politics without presupposing the commensurability of Blacks and Jews at large, or of anti-Blackness and antisemitism in the abstract.
Ben Ratskoff is currently a Visiting Assistant Professor in the Louchheim School of Judaic Studies at Hebrew Union College and the University of Southern California, after having completed his dissertation in June 2021 at UCLA's Comparative Literature department. His writing has appeared in Jewish Studies Quarterly and Studies in American Jewish Literature as well as the Los Angeles Review of Books, Truthout, and Jewish Currents.
Register here.